Great Smoky Mountains National Park Map
Great Smoky Mountains National Park Map
Introducing the Great Smoky Mountains National Park Map – a vibrant three-color screenprint that effortlessly melds the timeless charm of the Smokies with a modern finish.
This map brings the majesty of the Smokies to life in an entirely new way. Our innovative design process harnesses GIS elevation data, magically conjuring the illusion of these iconic peaks rising from the surface of the paper. Crafted with the purpose of enriching your home and capturing the wild allure of the Smoky Mountains.
This meticulously detailed map illustrates trails, roadways, and essential landmarks, making it an indispensable tool for planning your next adventure or simply sharing your favorite hiking spots with friends. Whether purchasing as a thoughtful gift or a striking centerpiece for your own abode, prepare for more than just a piece of art – this will spark captivating conversations and serve as an irresistible invitation to explore the wonder of the Smokies.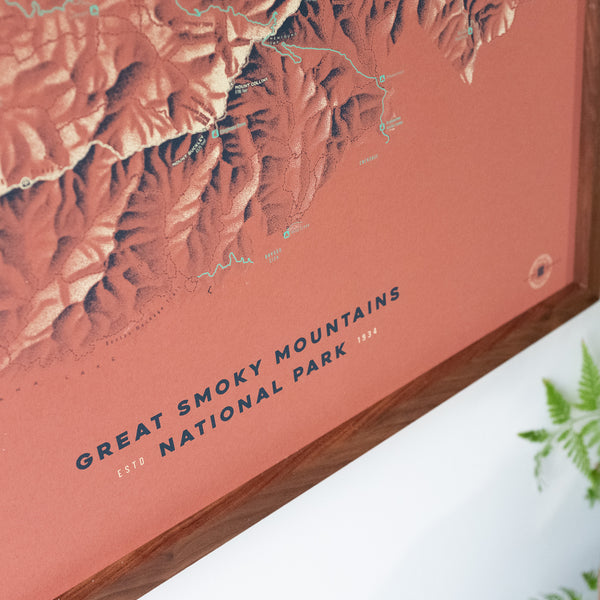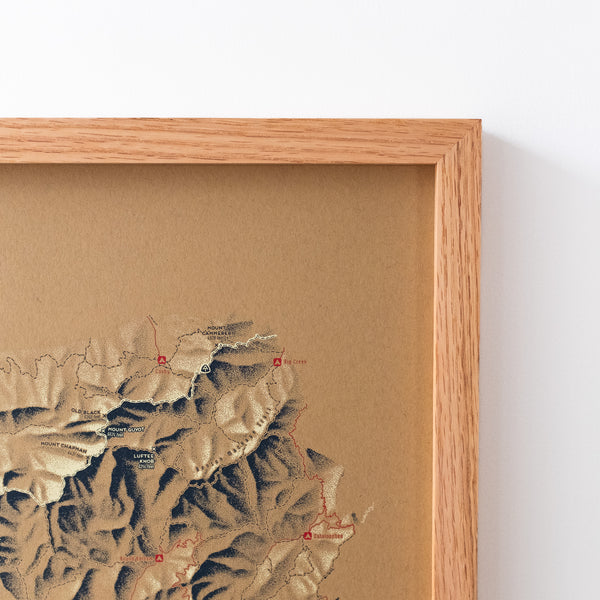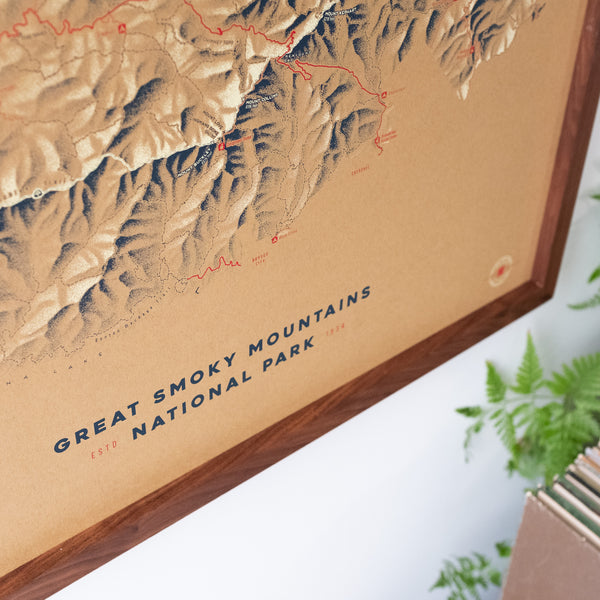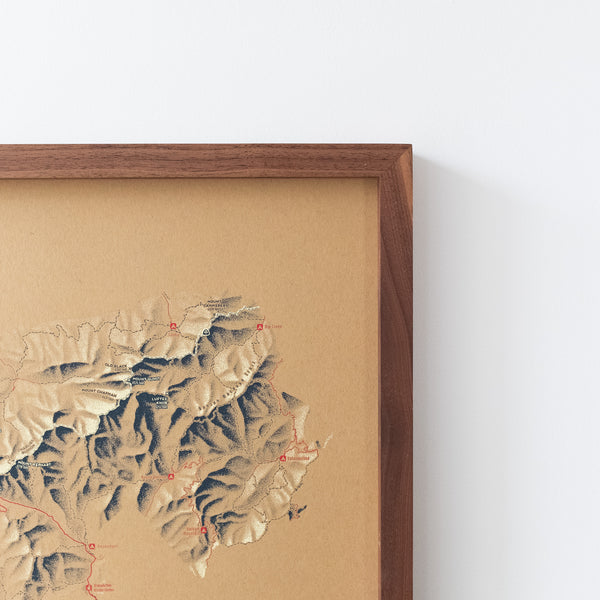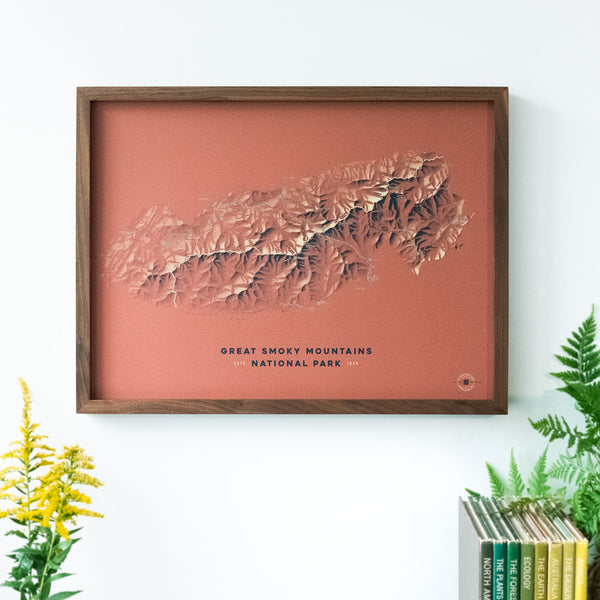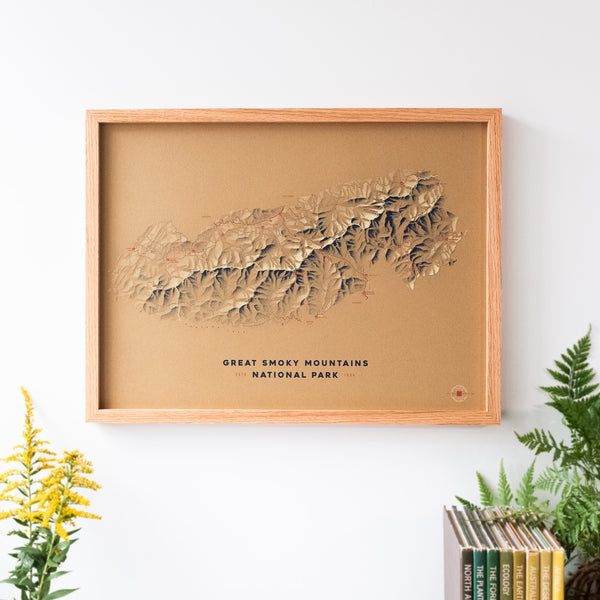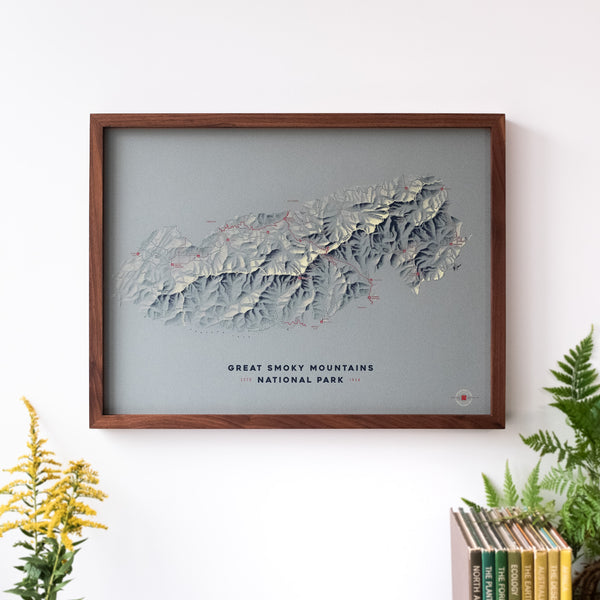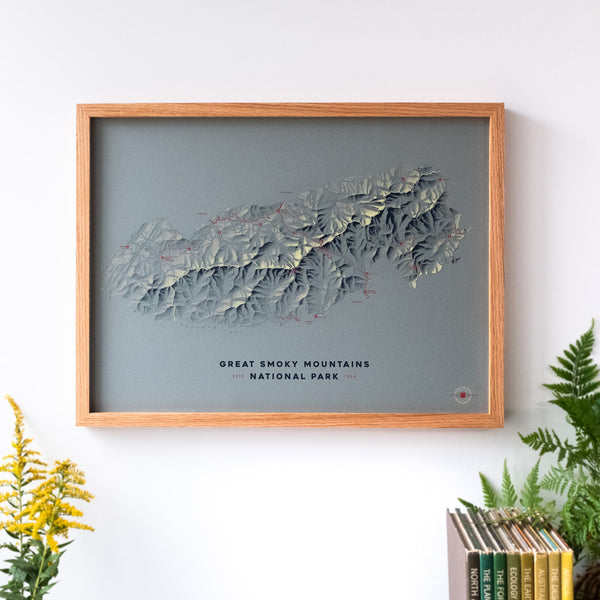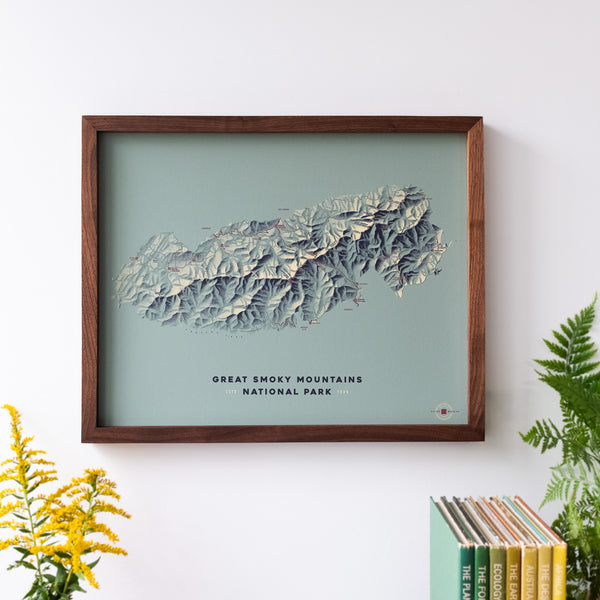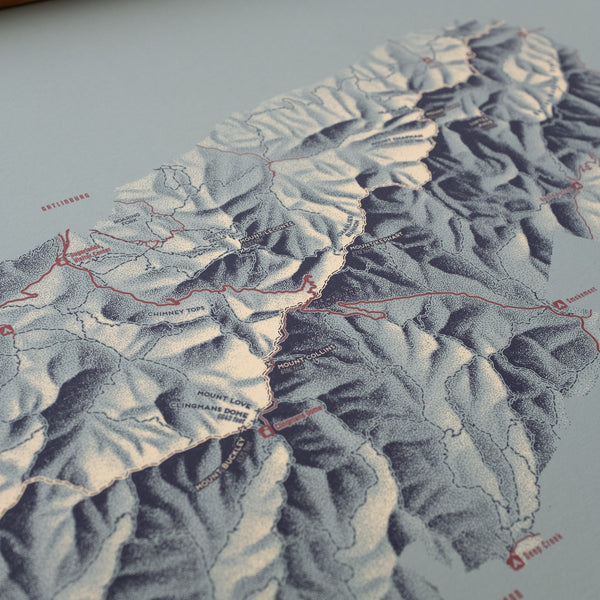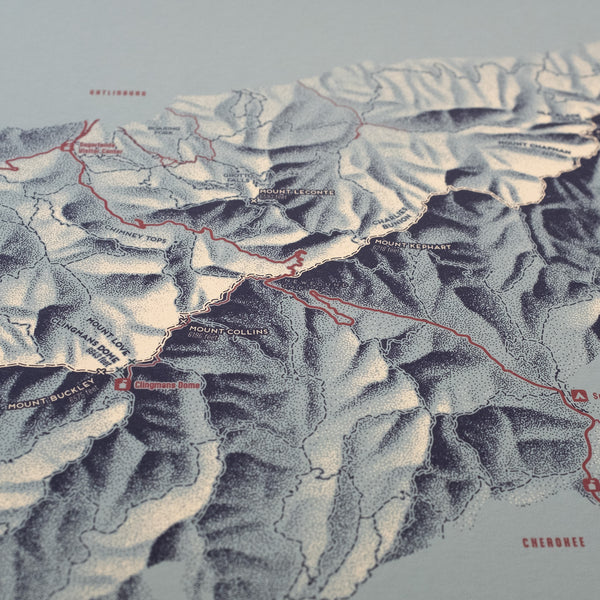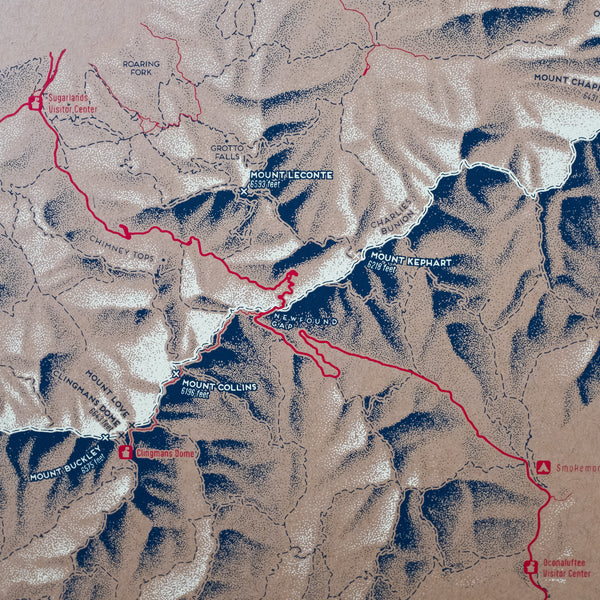 DETAILS
🔍 3D Illusion, 2D Print: We use an innovation design process to create the appearance of the mountains lifting off the page. This print will draw people in!
🎨 Hand-Printed: This map is a 3-color screenprint. You'll notice the difference right away with an ink texture you can feel.
🎁 Perfect Gift Alert: This print makes the ultimate gift for Smoky Mountain enthusiasts. Share the joy of discovery with friends and family.
📜 Premium Quality: Printed on luxe heavyweight paper with a matte finish, this print is sturdy enough to hang straight on the wall or frame without glass.
Shipping
• Carefully packaged and shipped within 1-2 business days
• Maps come rolled in a tube (unless purchased with a frame)
• Order a map + frame, and we will frame it for you
• Tracking and delivery updates provided
• 100% recyclable packaging
• Climate Neutral Certified. We offset the carbon footprint of your shipment
• Local pickup available in Knoxville, TN. Email studio@nativemaps.us to coordinate
FAQ
Can I exchange or return my purchase?
Yes!  We offer free exchanges and returns within 30 days of your purchase. Click this link to begin the return process. You can also find the link at the bottom of this page. 
What mail carrier do you use?
 USPS
When will my order ship?
Orders typically ship within 24 hrs (48 hrs at most). Standard shipping rates and times apply and can be selected at checkout. This will vary during holidays. Be sure to check with us if you have a specific shipping deadline (email studio@nativemaps.us). We offer USPS Standard and Priority shipping. See below for shipping times. 
USPS Standard (First Class)     3-7 business days
USPS Priority                            2-4 business days
These are estimates from USPS. Prices and dates will vary based on location, weather, and USPS capabilities (packages generally take a little longer to arrive during the holidays). 
My order didn't arrive, what now?
Look for the tracking number in your shipment confirmation email. You should be able to see where your package is in transit. If you've lost your tracking number, let us know and we can look it up. If a package is lost in transit, it can typically be tracked down by talking to your local post office. If your order can't be located at all, please send us an email here with your order number, and we will send you a new order.
Can you make custom city maps?
Yes! We just launched our custom map, available here. 
Can you do custom sizes or colors?
Currently, we do not offer custom sizes or colors. We screenprint the maps by hand, which makes size and color difficult to adjust for a single order. We do hope to find a way to offer this in the future. 
Where's my city map?
We are constantly working on adding more cities. Because of our intensive research and design process, each city takes about a month to complete. We want to put the best maps possible out there. We'll be ramping up production this next year, so definitely keep an eye out. Be sure to cast your vote for the next city here. We use that to decide which city to create next!
What sizes do your prints come in?
Our print sizes are 18"x24" and 16"x20", perfect for standard framing sizes.
How should I frame the map?
You can choose from one of our handcrafted frame options above. Or, check out our blog post here to see our favorite affordable frames on the internet.
Can you include glass or plexi with the frame?
Our Craftsman frames do not come with glass, however they are easily adapted for glass. You can find a piece of glass or plexi at your local frame shop, hardware store, or online. The depth of the frame easily fits a layer of glass. Please note, the Craftsman frames are designed to fit our print sizes which are 18" x 24" and 16"x20".
I sent an email and never heard back.
We do our best to respond to emails promptly! We usually don't respond on weekends, and it may take a day or two for us to get back to you. Things get busy around here from time to time, and we appreciate your patience! Always feel free to send us another message to follow up. 
Can I pick up locally?
We do not have an official store front, we work out of a private studio building in Knoxville, TN. However, if we're available, we're happy to have customers pick-up in person. To coordinate a pick-up, reach out to studio@nativemaps.us. 
Do you sell in stores?
If you'd like to find a store that carries our prints near you, check out our store locator here.
Maddy Grubb
Cartographer
With a deep love for National Parks and a passion for map-making, Maddy created a vintage-inspired map that captures the ancient mountains, ridges, and the atmosphere of the Great Smokies in a unique and artistic way.
GRAND PALACE
Screenprinting
We partnered with Grand Palace in Nashville to execute the 3-color screenprint.
Hand builT frames
We partner with local woodworkers to make our frames, using solid woods and natural finishes.
FRAMING IT YOURSELF?
We've got you covered. Check out our favorite affordable frames on the internet.
DIY FRAME IDEAS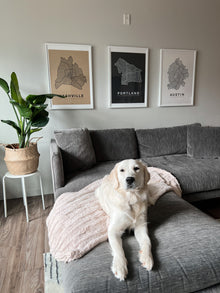 "The map is incredible! The design is simple which allows it to 'fit in' with any other decorations in a room."
MEGHAN S.
"This was just what my new home needed. It fits perfectly with the rest of my home and is a great reminder of where I grew up. Also the quality is great and I received my order quickly. You will be pleased with the results 😄"
TONI C.