A modern update to a classic look, these wooden print hangers use inlaid rare-earth magnets to securely hold the map in place without damaging the print. We work closely with a local woodworker to design these wooden magnetic hanging frames out of responsibly sourced Walnut and Oak.
Each set includes top and bottom sets, plus string for hanging

Finished Oak (lighter) or Walnut (darker)
All you need is one nail or thumbtack
Takes about a minute to install
Reclaimed or upcycled wood
Ships carefully wrapped inside a cardboard tube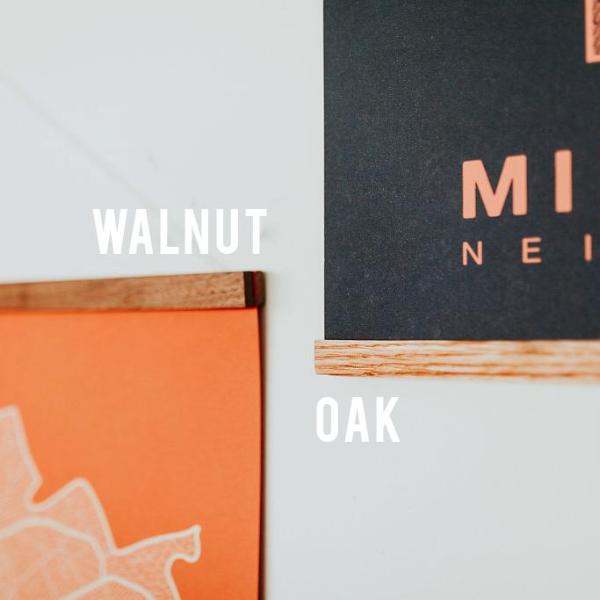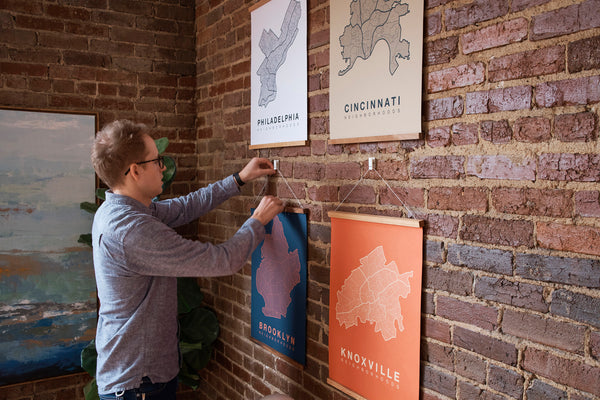 Customer Reviews
02/28/2022
Megan E.

United States
Just what I was looking for
Don't buy teak! There's a million of these type hangers on Amazon but I went with this one from Native Maps because it's a real human using quality wood, so I'm willing to pay a little extra.
06/02/2021
Anonymous

United States
Recommend the Naturalist!
I originally discovered the Naturalist frame through another vendor and decided to order directly from Native Maps because I want to support this business. I love the simple but sophisticated way to hang posters for my kids rooms because they can easily change out their artwork when the mood strikes them. The quality is far superior to other similar framing styles we looked at and they will be easy to bring to college when my daughter moves into her dorm this fall. We will definitely be ordering again.
05/18/2021
Anonymous

United States
I Love My Map!
I absolutely love my neighborhood map. The quality of the map and the frame are very good. I received my map within days of ordering which was even better. I would definitely recommend Native Maps.
02/11/2021
Janette G.

United States
Great quality! Definitely recommend !
My friend referred me and I can't say enough that I am in love with my product. Site was easy to order and it came quickly. Looks great on my walls !